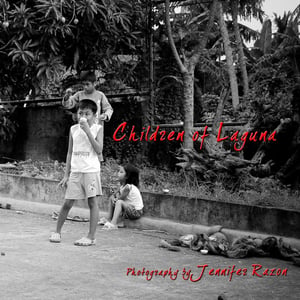 $

25.95
Children of Laguna by Jennifer Razon
112 pgs - Photography Book
The photographs in this book were taken from May 18th thru June 1st, 2008 during a trip to Nagcarlan, a small town in the province of Laguna, Philippines.
"Each day I saw their faces, each day I saw their smiles, through hardships and a small handful of possessions they have, I saw the genuine happiness in their eyes." - Jennifer Razon
Please allow two weeks for delivery (per order) as each book is custom printed. Each book is also personally signed. Thanks!